Due to Stay-at-Home order: Retail store closed until 4/6
Available via phone:
Mon - Thur 10 am - 4 pm
(440) 237-9400
or email: [email protected]
for Virtual Lessons & Delivery
Band & Orchestra
Rental Program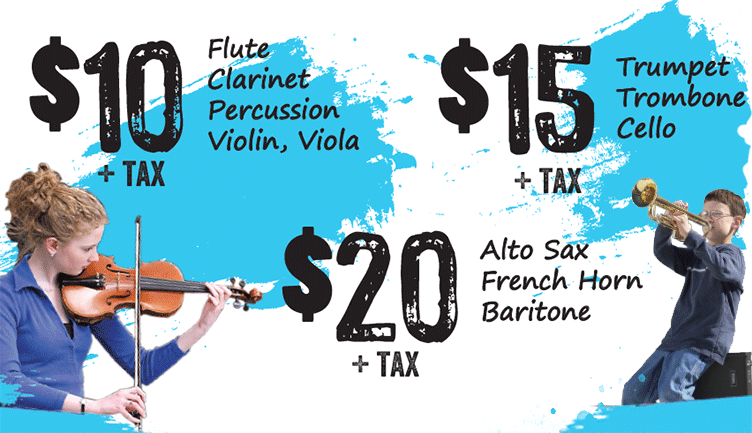 Pricing determined by instrument choice. Initial rental period is 90 days. At the end of the initial rental period you may return the instrument, purchase the instrument at 40% off, or continue with our equity-building rental program.
RENT NOW
Additional information (PDF)

Instrument
Violin, Viola,
Percussion
Flute,
Clarinet
Trumpet,
Trombone, Cello
Alto Sax, French
Horn, Baritone
Piccolo, Oboe,
Tenor Sax, Bass
90 DAY WORRY
FREE TRIAL
$10
$10
$15
$20
-
Comprehensive Oops! Coverage
included
included
included
included
-
MONTHLY EQUITY-BUILDING
RENTAL THEREAFTER
$18
$22
$30
$50
$50
Comprehensive Oops! Coverage
$4
$5
$7
$7
$7
*all prices are plus applicable sales tax